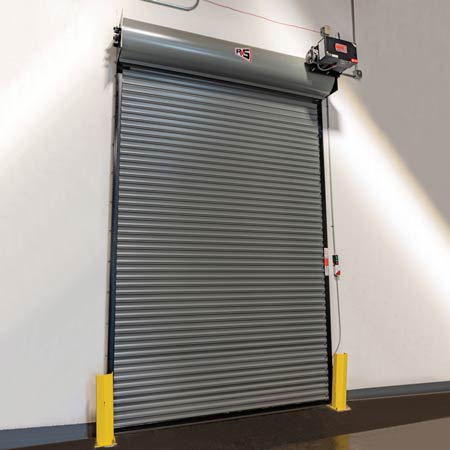 Fire Rated Doors
R&S Fire Doors provide emergency automatic closing to prevent flames and smoke from spreading during a fire. They combine the durability, efficiency and space saving advantages of our rolling steel service doors with heavy-duty slats, brackets, and guides that provide added strength to the door construction.
R&S Counter Fire Doors integrate the automatic fire protection system of a rolling fire door with the compact design and neat appearance of a counter door. These rated counter shutters are available in primed steel or stainless steel and with most of the same options as fire doors.
Warnock Hersey 1 -1/2 to 3 Hour Label or Oversize Certificate is furnished standard.
Designed to close automatically from a fully open position.
For doors up to 24'
Thermally activated by 165° fusible links
Option to integrate a feature-rich operator for a fully certified automated system; motor preparation only and simple manual operation also available.
Specifications

Mounting: Face of wall or between jamb

Operation: Push-up to 8′ wide and high and chain hoist on larger sizes is standard; awning crank, crank box or motor operation is optional

Automatic Closing: Thermally activated by 165 degrees fusible links, with the closing speed regulated by a governor device operative only during automatic closing

Curtain: Interlocking slats are roll-formed from galvanized steel coil. Gage of slats is as required by the listing. Endlocks are riveted to slats to maintain curtain alignment. Bottom of the curtain is reinforced by a double steel angle foot piece.

Guides: Steel channels or structural steel angles from curtain guides are bolted to structural steel wall angles. Sizes of guides are as required by the listing.

Brackets: Steel plate brackets are bolted to wall angles to support curtain and barrel and provide mounting for hood.

Hood: Formed from minimum 24 gage galvanized steel sheet, reinforced with top and bottom flanges to limit deflection. A thermally released integral flame baffle is provided when required by the listing.

Locking: Chain lock with chain operation and slide bolt locks with push-up or crank operation.

Finish: Slats and hoods are pre-finished with a baked-on grey polyester primer before forming. Foot piece, guides and brackets receive one coat of rust inhibiting black primer.
Options

Smoke Detector: Photoelectric (detects smoke and heat) requires connection to a release device with compatible voltage.

Perimeter Gasketing: Brush seals factory applied to guides and footpiece, field installed on header, to aid in smoke and draft control.

Vision Lites: Single or multiple 4″ wide cut-outs, glazed with clear wire glass (1 1/2 hour rating).

Powder Coat Finish: Available on all exposed surfaces, powder coating is a durable and decorative finish for steel or aluminum surfaces that provides longer life and requires less maintenance than a standard finish. Available in a variety of colors.

Galvanized Finish: Hot dip Galvanizing available on footpiece, guides and brackets

VIBRATECH ® Viscous Speed Governor: Available on R&S Manufacturing, Inc. fire doors for new construction and retro-fit. Viscous speed governor is a patented device allowing for a smooth and quiet descent of fire doors. It replaces standard ductile iron governor, and is recommended on larger certificate size fire doors, either manual or motorized operation. Viscous speed governor is U.L. listed and conforms to ASTM E152, CAN4-S104, NFPA 252, and UL 10B. Simple, maintenance-free design and construction, with a one year warranty.
Listing Summary
| Testing Agency | Underwriters Laboratories | Warnock Hersey |
| --- | --- | --- |
| File Number | R-9560 | R-9560 |
| Hourly Rating | 3 Hour | 1 1/2 Hour |
| Wall Construction | Masonry | Drywall or Masonry |
| Jamb Type | Concrete Block Brick | 16 ga. (min) Steel Stud, Steel Tube, Wood Stud, Concrete, Block, Brick |
| Label Size | 12′ Wide 12′ High 120 Sq. Ft. Max. | 12′ Wide 12′ High 120 Sq. Ft. Max. |
| Oversized | 24′ Wide 24′ High 579 Sq. Ft. Max. | 24′ Wide 24′ High 579 Sq. Ft. Max. |
Fail Safe Release Devices
(Standard feature on all Model SS90 release devices is an adjustable time delay of up to 30 seconds.)
Model SS90-A: Standard base model
Model SS90-B: Standard base model with additional relay contacts
Model SS90-B2: Standard base model with additional relay contacts, and battery back-up for power lost
Model SS90-C: Standard base model with additional relay contacts, battery back-up for power lost, and additional logic board to electrically run fire door down thru a motor operator avoiding mechanical release
Optional Voice Board: Can be added to any model, allows a standard audio warning or an optional warning tailored to your specific needs.
Battery Back-up UPS Systems: To support a motor operator during a power failure
LM21XPBB: The LiftMaster XPBB release device provides the functionality of a standalone fire alarm system including battery backup for installations prone to power outages or the existing alarm system is unable to support the door release system. Internal Battery Backup allows the release device to stand alone from the fire alarm system and act independently in the event of a power outage. The system can provide 24VDC power for up to four smoke detectors and two horn/strobes, mounted on either side of the door. Programmable delay settings, close door detection, diagnostic LEDs, localized testing, and reset capabilities are also standard.
● UL864 Revision 9 compliant
● Programmable DIP switch delay setting – either 10, 20, 30, or 60 seconds delay of door release to permit passage clearance
● Inputs for normally open 2- or 4-wire detectors and 4-wire normally closed detectors
● Trouble and alarm relays for communication with the fire alarm control panel, if required
● Audible trouble sounder to indicate when the release device is not operational
● On board diagnostic LEDs for easy troubleshooting
● Testing function allows routine fire door testing without requiring activation of the smoke detector
● Model LM21XPBBVB is equipped with a voice board to broadcast a pre-recorded voice evacuation message
LM21AFCB: The LiftMaster AFCB fire door release device works in conjunction with a standard, commercial electromechanical or solid-state operator to create an enhanced, yet economical, fire door operating system. For use with motorized doors incorporating a reversing electric safety edge. This 120VAC device can power up to four smoke detectors and two horn/strobes or speaker/strobes. This system combines state-of-the-art functionality and advanced features typically found on special-order fire door operators.
● UL864 Revision 9 compliant
● Programmable DIP switch delay setting – either 10, 20, 30, or 60 seconds delay of door release to permit passage clearance
● Internal Battery Backup system
● Obstruction cycling – works in conjunction with the door's electrical safety edge, reversing the door if an obstruction is encountered
● Motor voltage sensing
● Test keyswitch – permits floor-level testing of the system
● Model LM21AFCBVB is equipped with a voice board to broadcast a pre-recorded evacuation message